Well, it has been obvious the Spring continues to be difficult to find. Terrible storms late last week left trees blocking the driveway, power poles and lines down with many extended periods of no power. And I finally caught the wicked cold going around, in bed for few days and still feel yucky! BUT, I have been treated to some wonderful visitors to the bird feeders outside my bedroom window. On Saturday, I was treated to this Pileated Woodpecker – have never seen one at a feeder. Eventually he went back to a close tree and spent several minutes scooting up and down the tree looking for a snack!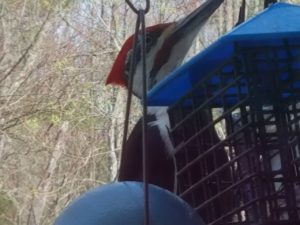 Yesterday I suddenly saw the 2 male Rose Breasted Grosbeaks. I was so excited since I haven't seen one in person for many years. One of them gave me a great solo shot.
And then again this morning, just waking up, opening the curtains to find my friend was back! How wonderful!
Among the rain, clouds and storms, there is a little sunshine!
Keep Stitching,
Lynn